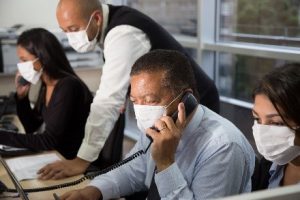 We managed to avoid the COVID-19 or coronavirus for the first couple weeks of the outbreak in the US, but its spread to Pennsylvania was inevitable. With 10 cases confirmed at the time of writing, at least ten schools have closed because of student contact with the virus (no student has shown any symptoms). Three schools in Chester County, Henderson High School, Unionville High School, and Patton Middle School closed on Tuesday, March 10th, for cleaning. Students at these three schools visited CHOP in King of Prussia, where a doctor contracted the virus.
With Chester County officially exposed to the virus, we thought to review a few processes and solutions for your company to implement to keep business flowing with some sense of normalcy.
Important General Tips
Remind Employees to Wash Hands: Remind your employees to wash their hands frequently. Even without the coronavirus, we are on the tail end of the flu season. Catching either the flu or the coronavirus messes with work schedules. Washing hands and using hand sanitizer helps kill the germs before they infect you.
Avoid Face Touching: Germs enter through the nose, mouth, and eyes. Touching your face leads to sickness.
Follow All Government and CDC mandates: Comply with all processes that the experts recommend.
Stay up to Date: Keep informed on where cases break out and the consequences of that case for your business.
Sanitize Offices: Throughout the day, use Lysol wipes or other cleaning methods to office spaces to kill germs.
Allow Remote Work: If the employee can do their job at home, let them. We discuss options for protecting information and maintaining the workflow in the next section. If they aren't in the office, they can't infect anyone in the office.
Encourage Sick Employees to Stay Home: Most Americans can't afford to take a whole 14 days off from work to quarantine themselves. They will force themselves to go into work to earn their paycheck, putting everyone else at risk for infection. Consider paying your employees for coronavirus related sick time and not taking vacation days or sick days from them.
Be Prepared to Close: Be prepared to close your office for a minimum of two weeks if one of your employees comes down with the virus. Two weeks is the recommended quarantine time for infected individuals to recover.
Remote Working Solutions
Purchase a Company VPN Plan: Government and health officials preach the importance of remote solutions. Allow staff to work remotely to avoid the spread of the virus but provide them with the necessary security. Remember, your business network and endpoints have protections and security measures that employees personal networks and devices lack. If they access private data, servers, information, or other files on their devices, they create a new, unsecured gateway for cyber-criminals to access. We recommend purchasing a virtual private network, or VPN, that allow your employees to access all the tools they need remotely without fear of easy access for cybercriminals. Tech Radar puts together a comprehensive list of the best 20 business VPNs here. With unsecured endpoints as the leading cause of network breaches, VPNs are essential for working remotely. This is a useful investment regardless, as the future shifts employment towards remote employment.
Messaging Applications: Messaging applications usage jumped over the past year. With apps like Slack and Microsoft Teams, inter-organizational communication takes seconds. Instead of sending email memos and waiting for a response, a simple chat message helps reduce the response time. At Origami Technology Group, we use Microsoft Teams to facilitate communication. With some of our staff scattered at various client locations, it allows for a secure and convenient connection between different buildings and places. Apps like Slack and Teams are essential for organizational communication even without employees working from home, and even more important if you close your office and allow your employees to work from home.
Video Chatting: For conversations that require face to face communication, use video chats. Although it detracts from the quality of the meeting, it also allows businesses to continue operating with a semblance of normalcy. Skype offers one of the best business packages and a free version for customers.
Utilize the Cloud: Cloud storage makes information accessible from anywhere. Using a company cloud file like Microsoft OneDrive allows for employees to continue collaborative work even if working remotely.
Businesses always need a business continuity and disaster recovery plan for times such as these. Life throws unpredictable natural disasters, viruses, and all other forms of chaos at us. Planning for how your business responds in times of crisis allows you to suffer minimal downtime and continue operating near peak efficiency. With the coronavirus closing in, start making decisions now on how to proceed if it affects your company.
Origami Technology Group offers Business Continuity and Disaster Recovery planning services. If you need assistance in establishing a plan for your business, feel free to reach out to us with any questions at info@origamitg.com. As always, we thank you for reading our blog. Make sure to like our Facebook page and follow us on LinkedIn and Twitter for new content each week.